Alpha Peak™
A Complete Pre-Workout powered by Full doses of 19 Science-based ingredients.
Increases Vascularity, Workout Performance & Mental Focus. Experience Vien Popping Pumps and Delayed Muscular Fatigue.
No Carbs, Sugar or any filler added. You get 100% Active Ingredients.

Sanitized
Product

Delivered within 5-7 days


30 Days
Money Back Guarantee
Offer Available:

GET EXTRA 10% OFF BUY 2 or More QTY - Apply Coupon Code: EXTRA10 GET A FREE TRIAL PACK OF YOUR CHOICE! ORDER ABOVE ₹2000 - Apply Coupon Code: FREETRIAL GET A FREE GYM T-SHIRT! ORDER ABOVE ₹2499 - Apply Coupon Code: T-Shirt FREE ZMA WORTH ₹450 ON PURCHASE OF ABOVE ₹2999: - Apply Coupon Code: FREEZMA GET 1 FREE SUPPLEMENT OF YOUR CHOICE!ON ORDER ABOVE ₹4999 : - Apply Coupon Code:FREESUPP BUY 5 SUPPLEMENTS & GET 1 FREE SUPPLEMENT OF YOUR CHOICE!: - Apply Coupon Code: ONEFREE EXTRA FLAT 10% OFF ON ORDER ABOVE ₹10,000: - Apply Coupon Code: FLAT10OFF
Experience the most advanced Pre-Workout ever made. Alpha Peak™ combines scientific research proven ingredients to deliver unreal results.

Supplement companies love to do flashy marketing and big claims. Alpha Peak™ doesn't play that game. It doesn't need hype or flashy labels. Results speak louder than words, with 19 carefully chosen powerful ingredients included at proper full doses, Alpha Peak™ will let you experience that you might have never experienced, the best workout of your life!

Alpha Peak™ is the most effective pre-workout supplement ever developed. It's built on pure science, years of study, and decades of professional experience. Nothing is hidden, and there is no carbs/sugar or any other filler. Alpha Peak™ is pure pre-workout fuel.

-- NutriJa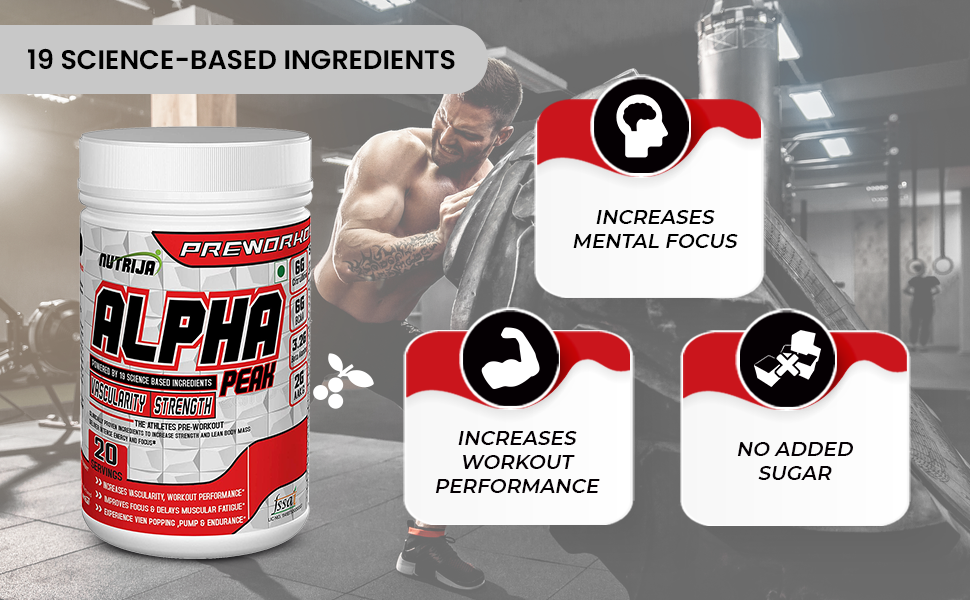 Alpha Peak™ Features:
Full doses of 19 science-based ingredients.
6 grams of Citrulline Malate to promote better muscle endurance & bigger pumps.*
2 grams of CarnoSyn® Beta-alanine to increase muscle performance, muscle power output & strength; ultimately increases training volume that helps you to sqeeze more last 2-3 reps.*
1.5 grams of TMG (Betain Anhydrous) for greater power and strength during workouts.*
1 grams of Agmatine Sulfate for skin tearing Pump and Vascularity*
2g of Arginine Alpha Ketoglutarate (AAKG) for increasing strength & inducing Nitric Oxide synthesis that results in immediate pump*
6 grams of BCAAs in 2:1:1 ratio for creating a anabolic state that support muscle growth & reducing muscle fatigue*
2 grams of Taurine for energy & focus*
300mg of Grape Seed Extract for it's antioxidant properties & increasing blood flow.
1g of milligrams of Beet Root Extract (betavulgaris L.) high in nitrates gives you bigger pumps and better energy.*
200mg of Panax Ginseng Extract to increase physical & mental performance.*
500mg of Green Tea Extract for boosting exercise endurance, utilizing fat as energy source & it's antioxidant properties.*
2g of Tyrosine for improved focus & energy *
1g of Acetyl-L-Carnitine (ALCAR) to increase mental focus and establish a stronger mind-muscle connection.*
300mg of Caffeine to boost alertness and drive, increase muscle strength and endurance, during workouts for greater training intensity.*
100mg of Ginkgo Biloba Extract for increased blood flow & recovery.*
500mg of Ashwagandha Extract to reduce mental fatigue (more motivation and drive) & faster recovery.*
500mg of Terminalia Arjuna Bark Extract to increase maximum oxygen consumption (VO2 max) this helps you push harder & longer.*
5 milligrams of BioPerine® to enhance absorption of the active ingredients in Alpha Peak™ for even better results.*

Supplement Facts
Serving Size: 1 Scoop (14g) | Servings per Pack: 20
Serving Size: 2 Scoop (27g) | Servings per Pack: 10
Amount Per Serving
% DV
PERFORMANCE & STRENGTH
Citrulline Malate (2:1)
6g
†
Beta Alanine (CarnoSyn®)
2g
†
Betaine (Trimethylglycine)
1.5g
†
Taurine
2g
†
MAXIMAL PUMP & VASCULARITY AMPLIFIER
Agmatine Sulfate
1g
†
Arginine Alpha Ketoglutarate (AAKG 2:1)
2g
†
Horny Goat Weed Extract

(Icarrin 60%)

100mg
†
Beet root Extract (Nitrates)

(Beta Vulgaris)

500mg
†
Niacin (Vitamin B-3)
100mg
†
Grape Seed Extract (95% OPC)
200mg
†
ANTI-FATIGUE ANABOLIC BCAA 2:1:1
L-Leucine
3g
†
L-Isoleucine
1.5g
†
L-Valine
1.5g
†
INTENSE FOCUS & ENERGY
Caffeine Anhydrous
300mg
†
L-Tyrosine
2g
†
Acetyl L-Carnitine (ALCAR)
1g
†
Green Tea Extract (50% EGCG)
500mg
†
Panax Ginseng Extract
200mg
†
VO2 MAX / ENDURANCE
Ashwagandha Extract
500mg
†
Terminalia Arjuna Bark Extract
500mg
†
ABSORPTION ENHANCER
Bioperine®

(Piper Nigrum Fruit Extract)

5mg
†
Other Ingredients:

Artificial flavour & Sucralose.
† Daily value not established.
DIRECTIONS:
Mix 1 or 2 scoops of Alpha Peak in 400ml of water and drink 30-45 minutes before workout.
Alpha Peak is an incredibly strong pre-workout matrix. Always begin use with 1 scoop and assess your tolerance. Once tolerance is assessed, take a maximum dose of 2 scoops. To avoid sleeplessness, do not consume within 4 hours of bedtime.
ATHLETE'S DOSAGE PROTOCOL:
Intermediate : Take 1 Scoop (14g) per Serving
Advanced : Take 2 Scoops (27g) Maximum
Note: Niacin (Vitamin B-3) causes harmless intense flushing, tingling or "Thermogenic Effect" . This flushing is harmless and usually subsides within 30 - 45 minutes.
WARNINGS:
DO NOT CONSUME IF UNDER 18 YEAR OF AGE.
AVOID USING OTHER CAFFEINATED PRODUCTS.
KEEP OUT OF REACH OF CHILDREN.
| | |
| --- | --- |
| Color | N/A |
| Select Flavor: | No |
| Brand | NutriJa™ |
| Country of Origin | India |
| Ingredients | 19 science-based ingredients, see supplement facts. |
| Form | Powder |
| COA | Certificate Of Analysis |
| Product Code/UPC | 803257320439 |
| Price | ₹ 0 |
Product Questions
I have been working out since a year now, what dosage of Alpha Peak will you recommend for me?

As Alpha Peak is a incredibly strong Pre-Workout, you can take 14 gram of Alpha Peak (1 scoop, intermediate dosage) and can still experience blasting Pump, Strength, Endurance and Energy, this much dose itself is more than enough and taken by most of the consumers.

Wat is the diff with caffeine and without caffiene

Alpha Peak with Caffeine version contains Caffeine whereas Alpha Peak without Caffeine version is "Caffeine Free", Instead of Caffeine we have replaced with Mucuna Pruriens Extract which is non-stimulatory.
Although there is no difference in potency of both versions as Alpha Peak has science-based ergogenic ingredients & doesn't just rely on caffeine alone.

How much caffeine in 1 serving or 1 scoop contain ?

In each serving of 27 grams of Alpha Peak will get 300mg of Caffeine