BCAA
A proven ratio of BCAA 2:1:1 Leucine, Isoleucine and Valine
Available in form of: BCAA Powder & Tablets.
With Unflavored BCAA powder you get 100% BCAA contents & no fillers

Sanitized
Product

Delivered within 5-7 days


30 Days
Money Back Guarantee
Offer Available:

GET EXTRA 10% OFF BUY 2 or More QTY - Apply Coupon Code: EXTRA10 GET A FREE TRIAL PACK OF YOUR CHOICE! ORDER ABOVE ₹2000 - Apply Coupon Code: FREETRIAL GET A FREE GYM T-SHIRT! ORDER ABOVE ₹2499 - Apply Coupon Code: T-Shirt FREE ZMA WORTH ₹450 ON PURCHASE OF ABOVE ₹2999: - Apply Coupon Code: FREEZMA GET 1 FREE SUPPLEMENT OF YOUR CHOICE!ON ORDER ABOVE ₹4999 : - Apply Coupon Code:FREESUPP BUY 5 SUPPLEMENTS & GET 1 FREE SUPPLEMENT OF YOUR CHOICE!: - Apply Coupon Code: ONEFREE EXTRA FLAT 10% OFF ON ORDER ABOVE ₹10,000: - Apply Coupon Code: FLAT10OFF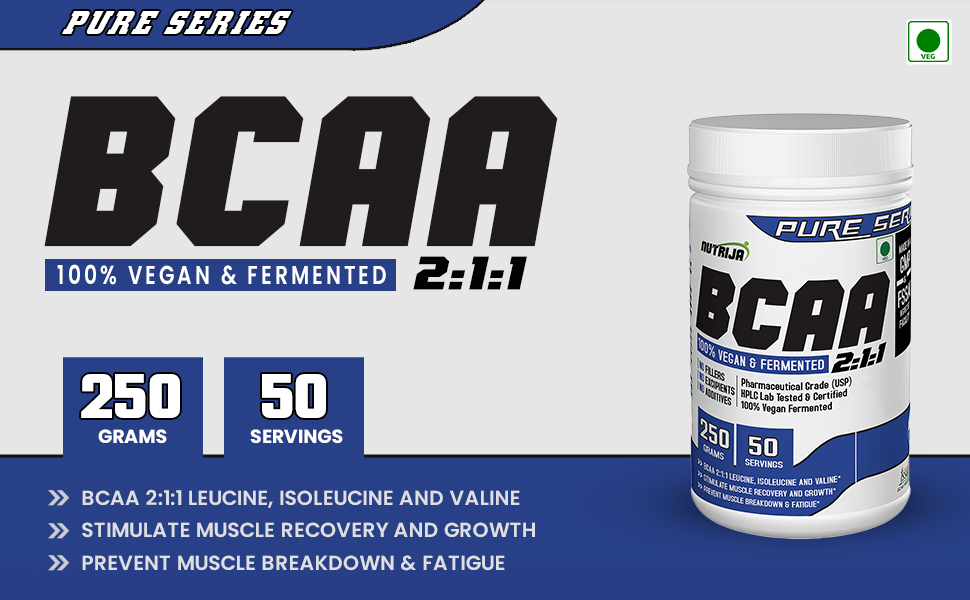 We all know BCAA supplementation is useful for gaining mass, We believe BCAAs are particularly helpful for maintaining muscle mass while on a cut or calorie-deficit diet as BCAAs trigger protein synthesis and inhibit the breakdown of muscle cells. They're particularly valuable for bodybuilders who want a lean and muscular frame.

-- NutriJa
Unlike whey proteins, free-form BCAAs requires no digestion, and are instantly absorbed into the bloodstream this is specially important for bodybuilders and athletes as free-from BCAA are metabolised in the muscles not in liver. BCAA have crucial role in Protein Synthesis, Anabolism & Anti-Catabolism. Without adequate amount of BCAAs muscle cells won't recover as fast & won't grow. Most BCAA users reported us increased performance, delayed fatigue most likely due to better recovery, faster muscle growth during periods of intense training & less muscle loss when trying to lose weight.
NUTRIJA™ Branched Chain Amino Acids (BCAAs) comes in a proven ratio of 2:1:1 namely Leucine, Isoleucine and Valine. NUTRIJA™ BCAAs is unflavored thus you get 100% pure contents of Leucine, Isoleucine and Valine. BCAA is manufactured in USA based GMP certified facility and well tested in lab for purity and potency. See "Certificate Of Analysis" at the top right.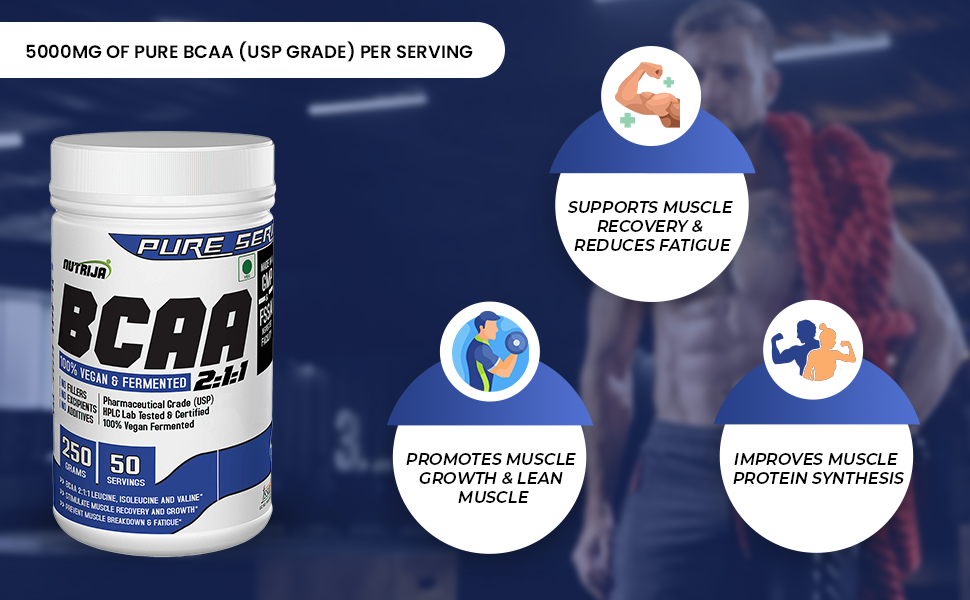 Goes well with / Synergy with:
EVIDENCE BASED BENEFITS OF BCAA
| | EFFECTIVE FOR | CHANGE | Magnitude of Effect | Scientific Research | Comments |
| --- | --- | --- | --- | --- | --- |
| | Protein Synthesis | | Notable | | BCAAs is observed to be the most effective in triggering protein synthesis. Maximum protein synthesis is noticed when BCAAs is supplemented in conjunction with resistance exercise as they both activates mTORC1 signaling pathway which is necessary for muscle building. Take BCAA for greater muscle growth and for maintaing those hard earned muscle during the time off from exercise or at cut. |
| | Muscle Loss | | Notable | | Few of the studies have noted the BCAA supplementation at the ratio of 2:1:1 activated the mTOR anabolic signal molecules in the muscle cells but also inhibited the concentration of catabolic protein MAFbx. The more BCAA you have in your muscles, the slower your muscles breakdown. |
| | Fatigue | | Notable | | BCAAs prevent fatigue of central nervous system by inhibiting tryptophan which is a precursor to serotinin made in the brain, serotonin is what makes us feel tired and sleepy. In a study participants who took 300mg/kg of BCAA supplement noted a 17.2% increased time of exhausion compared to placebo. |
| | Endurance Performance | | Notable | | During strenuous exercise the glycogen are depleted. In this case body can burn BCAA for enery to maintain the ATP energy levels. BCAA may also promote body's ability to burn fat for energy. |
| | Recovery | | Notable | | Studies shows BCAA can reduce muscle soreness & DOMS. In a study supplemeting 100mg/kg of BCAA reduced muscle soreness at 48 hours and allowed greater training frequency. |
BCAA IS RECOMMENDED FOR
| Goal | Comment |
| --- | --- |
| Bodybuilding | Bodybuilder take advantage of BCAA in bulking stage as well as on cut. For example to boost anabolism & increasing lean body mass, to prevent catabolism/muscle breakdown when on calorie deficit diet or on a cut, to improve workout intensity, fight fatigue and speeding up the recovery & training frequency. |
| Athletes | Endurance athlete may experience enhanced performance, delayed fatigue & less muscle soreness by supplementing BCAAs. |

Supplement Facts
Serving Size: 1 scoop (5g) | Servings per 100g Pack: 20
| | | |
| --- | --- | --- |
| | Amount Per Serving | % Daily Value |
| L-Leucine | 2500 mg (2.5g) | * |
| L-Isoleucine | 1500 mg (1.5g) | * |
| L-Valine | 1500 mg (2g) | * |
* Daily value not established.
INGREDIENTS:
100% Pure BCAA USP Approved Pharmaceutical Grade Powder in a proven ratio of Leucine (50%), Isoleucine (25%), Valine (25%)
DIRECTIONS:
Mix 1 scoop (5g) with 100ml of water. Take it Pre or Intra workout to avoid muscle breakup and promote anabolism.
| | |
| --- | --- |
| Color | N/A |
| Caffeine Option | No |
| Select Flavor: | No |
| Brand | NutriJa™ |
| Country of Origin | United States |
| Ingredients | 100% BCAA 2:1:1 USP Grade |
| Form | Powder |
| COA | Certificate Of Analysis |
| Product Code/UPC | 803257319839 803257319846 |
| Price | ₹ 0 |