MICELLAR CASEIN™
Each 30g Serving Provides 25.6g of Slow digesting Protein, with Zero Sugar & Zero Fat.
Each serving contains 4.7g of BCAA , 4.6g of Glutamine and 3g of L-Leucine, which helps in lean muscle growth.
Prevent Muscle Breakdown And Promote Lean Muscle Maintenance And Growth..

Sanitized
Product

Delivered within 5-7 days


30 Days
Money Back Guarantee
Offer Available:

BUY ANY 4 LBS WHEY PROTEIN & GET 1 FREE SUPPLEMENT OF YOUR CHOICE!: - Apply Coupon Code: MYFREE BUY 10 LBS WHEY PROTEIN & GET ₹500OFF + 1 FREE SUPPLEMENT OF YOUR CHOICE!: - Apply Coupon Code: MYFREE

NutriJa's Micellar Casein provides you 25.6g of pure,slow digesting MIcellar Casein protein per serving with zero sugar and zero fat. MICELLAR CASEIN is an advanced anti catabolic protein designed to help preserve your gains and feed extended recovery potential. Casein can facilitate up to 7 hours to protein absorption. Relative to Nitrogen delivery and a longer lasting anabolic recovery phase than whey protein.Casein is the ideal protein to consume right before bed, as it'll be more helpful throughout the night than any other protein option. Micellar Casein also provides all of the essential amino acids needed for lean muscle, including the branched chain amino acids.

-- NutriJa
NutriJa's Micellar Casein 85% is manufactured using Micellar Casein imported from United States of America ensuring protein quality of international standards. Also, added various digestive enzymes like Amylase, Protease, and Lactase & Lipase which helps to digest protein and keeps your digestive system healthy.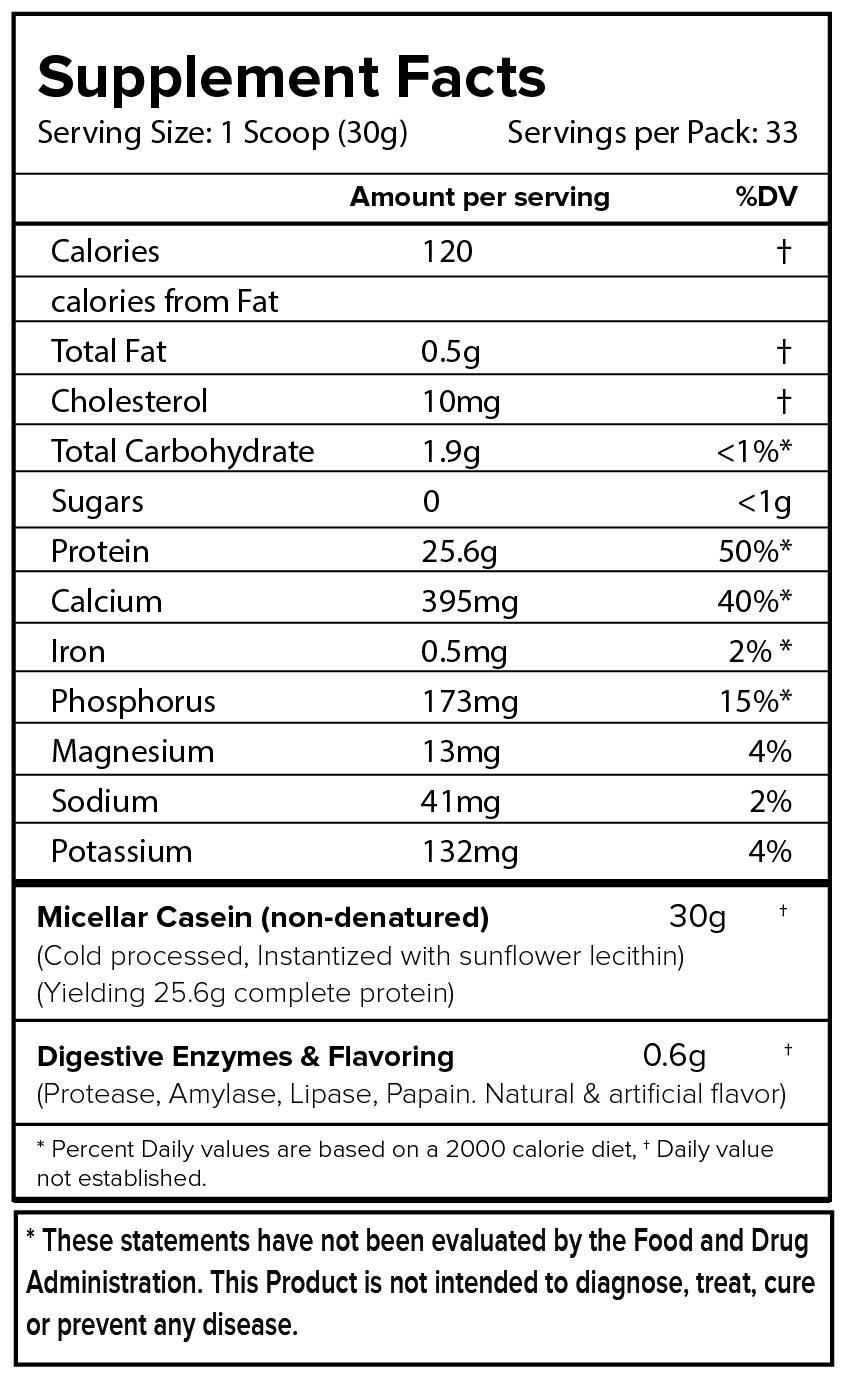 | | |
| --- | --- |
| Color | No |
| Caffeine Option | No |
| Select Flavor: | No |
| Brand | NutriJa™ |
| Country of Origin | United States |
| Ingredients | Micellar Casein 85% |
| Form | Powder |
| COA | 3rd Party Lab Report |
| Product Code/UPC | 720444438701 |
| Price | ₹ 0 |