Advance Electrolytes +
✔ ENERGY & HYDRATION: NutriJa Advance Electrolytes + Supplement hydrates your muscles, Gives energy & provides a Unique Hydration Blend consisting of electrolytes & natural coconut.
✔ ELECTROLYTE BALANCE: NutriJa Advance Electrolytes + a scientific formulation with essential Vitamins & minerals sodium chloride and potassium chloride to hydrate & helps restore electrolyte balance and prevents cramps.
✔ENHANCES PERFORMANCE & ENDURANCE: NutriJa Advance Electrolytes + Boosts stamina & endurance. Reduces Fatigue, Relieves Muscle Exhaustion also helps in speed up recovery post workout & reduce muscle soreness..
✔RAPID MUSCLE REPAIR AND RECOVERY: NutriJa Advance Electrolytes + is loaded with amino energy supplement packed with Leucine, a muscle builder that serves as the catalyst for muscle protein synthesis. Amino Acids Blend supports muscle repair, post workout recovery to help you get through the day or a gruelling workout.

Sanitized
Product

Delivered within 5-7 days


30 Days
Money Back Guarantee
Offer Available:

GET EXTRA 10% OFF BUY 2 or More QTY - Apply Coupon Code: EXTRA10 GET A FREE TRIAL PACK OF YOUR CHOICE! ORDER ABOVE ₹2000 - Apply Coupon Code: FREETRIAL GET A FREE GYM T-SHIRT! ORDER ABOVE ₹2499 - Apply Coupon Code: T-Shirt FREE ZMA WORTH ₹450 ON PURCHASE OF ABOVE ₹2999: - Apply Coupon Code: FREEZMA GET 1 FREE SUPPLEMENT OF YOUR CHOICE!ON ORDER ABOVE ₹4999 : - Apply Coupon Code:FREESUPP BUY 5 SUPPLEMENTS & GET 1 FREE SUPPLEMENT OF YOUR CHOICE!: - Apply Coupon Code: ONEFREE EXTRA FLAT 10% OFF ON ORDER ABOVE ₹10,000: - Apply Coupon Code: FLAT10OFF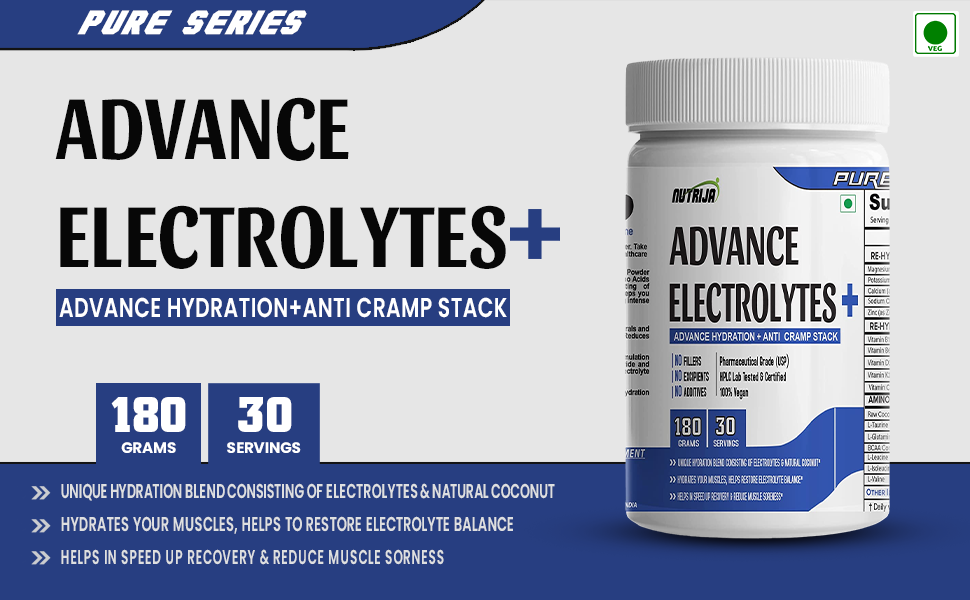 NUTRIJA® Advance Electrolytes + Energy Blend Powder loaded with 17 ingredients Vitamins, Minerals, Amino Acids & BCAA's Complex Hydration Blend consisting of electrolytes and natural coconut powder which keeps you brimming with energy and provides hydration during intense Intra workouts.
Advance Electrolytes+ Ingredients

REHYDRATING MINERALS

Magnesium(as Magnesium Glycinate) helps to regulate calcium transport & stimulates the secretion of calcitonin, a hormone that aids in the influx of calcium into bone Nerve & Muscle Function.
PotassiumPotassium Citrate is essential for the functioning of the nervous system that regulates the transportation of messages between your brain & body. Potassium Citrate support in balancing the potassium levels in your body to enhance your body's ability to activate & generate nerve impulses. Supports Electrolyte Balance and Normal pH.
Calcium Citrate(as Calcium citrate malate) provides the building blocks that help keep bones & teeth strong & healthy. It encourages healthy bone regeneration, increases retention of minerals in the body for improved bone density & helps prevent bone breakage.
Sodium citrate is the sodium salt of citric acid. It also acts as an alkaline source as a supplement, the salt can help restore healthy pH levels.
ZINC (as Zinc Citrate) is an aphrodisiac and Testosterone Booster. Zinc is also very important for the functioning of the enzyme, hormone, and immune systems. Zinc also act as an aromatase inhibitor and reduce estrogen levels. It is also a potent antioxidant and can provide benefits for prostate issues. Zinc also plays a role in the repair of intestinal mucosa, when supplemented in high doses.

REHYDRATING VITAMINS

Vitamin B12 Supplement Most Bioactive Form & Vegan. Vitamin B12 supplement Supports energy production by converting food to fuel. Promotes energy metabolism. Supports normal brain function & cognition. Supports healthy immune function. Vitamin B12 supplement supplies high-potency methylcobalamin,the bioactive form of B12, throughout the body's energy pathways.
Vitamin B6 also known as pyridoxine, is a water-soluble vitamin that your body needs for several functions. Consuming adequate amounts of vitamin B6 is important for optimal health.
Vitamin D3 (Veg D3 as Cholecalciferol), provides 400IU of 100% Vegan Vitamin D3 as Cholecalciferol in each serving, which is active form of Vitamin D3, which is essential for maintaining bone health and the immune system. Also help you maintain healthy levels of this essential vitamin during periods of reduced sun exposure.
Vitamin K2 (MK-7), binds the calcium to bones and saves from calcium buildup around arteries.
Vitamin C is capable of being both an antioxidant and pro-oxidant, depending on what the body needs. Vitamin C is an absolute supplement to praise a healthy, balanced diet. The body uses vitamin C during detoxification and anti-inflammatory processes, as well as immune system functions.

AMINO ACIDS & BCAA's BLEND

Raw Coconut Refreshing & Re-Hydrating low-calorie natural coconut water extract contains more nutrients.
L-Taurineis a key ingredient in many of the energy drinks such as Red Bull. You will often find taurine added to Pre-workout or Amino acid preparations in bodybuilding supplements for enchancing workout performance.
L-Glutaminehelps in soothing the muscles to boost the recovery process and restricts muscle breakdown post-workout. Glutamine drink helps to enhance the blood flow to the muscles. Thus, resulting in enhanced Muscle volume and Higher Stamina.
BCAA'S ComplexBranched Chain Amino Acids (BCAAs) comes in a proven ratio of 2:1:1 namely Leucine, Isoleucine and Valine. NUTRIJA™ BCAAs is unflavored thus you get 100% pure contents of Leucine, Isoleucine and Valine.

Supplement Facts
Serving Size: One Scoop (6 Grams) | Servings per 180g Pack: 30
| | | |
| --- | --- | --- |
| | Amount Per Serving | % Daily Value |
| RE-HYDRATING MINERALS | | |
| Magnesium (as magnesium Glycinate) | 340mg | 100% |
| Potassium Citrate | 275mg | * |
| Calcium (as calcium citrate) | 500mg | * |
| Sodium Chloride | 160mg | * |
| Zinc (as zinc citrate) | 12mg | 100% |
| RE-HYDRATING VITAMINS | | |
| Vitamin B12 (as methylcobalamin) | 1500mcg | * |
| Vitamin B6 (as pyridoxine Hcl) | 2mg | 100% |
| Vitamin D3 (as Cholecalciferol) | 400IU | 100% |
| Vitamin K2 (as Naturak MK-7) | 100mcg | 100% |
| Vitamin C | 40mg | 100% |
| AMINO ACIDS & BCAA's BLEND | | |
| Raw Coconut (Cocos nucifera) | 3000mg | * |
| L-Taurine | 1000mg | * |
| L-Glutamine | 250mg | * |
| BCAA Complex | 500mg | * |
| L-Leucine | 250mg | * |
| L-Isoleucine | 125mg | * |
| L-Valine | 125mg | * |
| Other Ingredients | Natural flavor & sucralose | * |
* Daily value not established.
INGREDIENTS:
DIRECTIONS:
Mix 1 scoop(6g) with 200ml of water. Take it Pre or Intra workout or as directed by your healthcare professional.
| | |
| --- | --- |
| Color | N/A |
| Caffeine Option | No |
| Select Flavor: | No |
| Brand | NutriJa™ |
| Country of Origin | India |
| Ingredients | Enriched with 17 Vitamins, Minerals & Amino Acids Blend with no carbs & sugar |
| Form | Powder |
| COA | Certificate Of Analysis |
| Product Code/UPC | 720444432143 |
| Price | ₹ 0 |