SLEEP RELAX™
Restful Sleep, Relaxation & Stress Relief.
Helps to calm your body & mind.
Supports Rest & Improve your mood.
Eases Anxiety & reduces mental stress.
Helps to stabilize serum cortisol levels.

Sanitized
Product

Delivered within 5-7 days


30 Days
Money Back Guarantee
Offer Available:

GET EXTRA 10% OFF BUY 2 or More QTY - Apply Coupon Code: EXTRA10 GET A FREE TRIAL PACK OF YOUR CHOICE! ORDER ABOVE ₹2000 - Apply Coupon Code: FREETRIAL GET A FREE GYM T-SHIRT! ORDER ABOVE ₹2499 - Apply Coupon Code: T-Shirt FREE ZMA WORTH ₹450 ON PURCHASE OF ABOVE ₹2999: - Apply Coupon Code: FREEZMA GET 1 FREE SUPPLEMENT OF YOUR CHOICE!ON ORDER ABOVE ₹4999 : - Apply Coupon Code:FREESUPP BUY 5 SUPPLEMENTS & GET 1 FREE SUPPLEMENT OF YOUR CHOICE!: - Apply Coupon Code: ONEFREE EXTRA FLAT 10% OFF ON ORDER ABOVE ₹10,000: - Apply Coupon Code: FLAT10OFF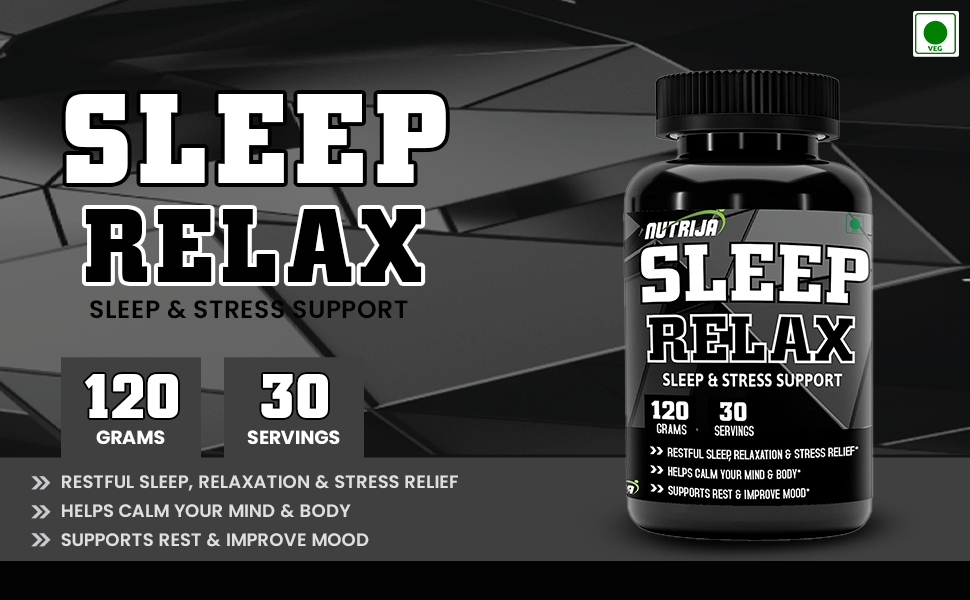 THE 100% DRUG-FREE WAY TO STRESS LESS AND SLEEP MORE*



NUTRIJA® SLEEP RELAX™ is a maximum strength drug free Sleep & Stress support.* It's formulated with 12 scientifically proven ingredients to help you de-stress, sleep well, and wake up feeling refreshed.* 5-HTP, GABA, L-Tryptophan, L-Theanine, Ashwagandha Extract, Magnesium, Mucuna Extract help you relax, fall asleep faster & stay asleep longer.




FALL ASLEEP FASTER, SLEEP BETTER / WAKE UP FRESH

SLEEP RELAX™ a natural sleep aid formula contains the best scientifically proven ingredients found in nature! These help calm mind, reduce anxiety, improve sleep quality. Restore cognitive function and wake up feeling refreshed and renewed!



NON-HABIT FORMING SLEEP SUPPLEMENT

SLEEP RELAX™ relies primarily on natural herbal extract and proven amino acids to optimize sleep, so you aren't running the risk of building up tolerance & forming dependency.



REDUCES ANXIETY, MOOD SWINGS & TENSION

GABA, L-Theanine, Ashwagandha Extract, Bacopa Monnieri (Brahmi) Extract, L-Taurine reduces the effect of the cortisol hormone by becoming an adaptogen. It relieves stress and improves mood.



DRUG-FREE SOLUTION / BEST NATURAL SLEEP AID

Forget the OTC sleep aids and get a natural sleep supplement that works, discover the science behind deep sleep with our synergistic formula.



SLEEP RELAX™ INGREDIENTS?

5-HTP (5-Hydroxytrptophan) - 50MG

5-HTP (5-Hydroxytrptophan) is a drug free and naturally occurring plant-derived amino acid that enhances the mood & sleep quality sleep by increasing melatonin production in your body. 5-HTP (5-hydroxytryptophan) is the primary precursor to serotonin production in the body, which provides many benefits, such as promoting relaxed mood and sleep better. One human-based study showed that a combination of 5-HTP and gamma-aminobutyric acid (GABA) significantly reduced the time it took to fall asleep, increased sleep duration and improved sleep quality

GAMMA-AMINOBUTYRIC ACID (GABA) - 300MG

GABA is a neurotransmitter that blocks impulses between nerve cells in the brain., GABA reduces mental and physical stress, eases anxiety, creates a calmness of mood and induces sleep. Research shows that low levels of GABA can be a factor in overthinking, feelings of anxiousness, tension and associated concerns, like difficulty sleeping.

L-TRYPTOPHAN - 1000MG

L-tryptophan is an essential amino acid that helps the body make proteins and certain brain-signaling chemicals. Your body changes L-tryptophan into a brain chemical called serotonin. Serotonin helps control your mood, anxiety and promotes healthy sleep patterns.

L-THEANINE - 200MG

L-theanine is promotes relaxation, improves memory, a calm mind and a reduction in stress. Theanine may help reduce mental and physical stress, improve cognition and boost mood. Theanine is unique in supporting a calm mood while at the sometime enhancing a sense of clarity and focus. L-theanine can increase concentration and relieve tension and at night it can help to relax the mind for a more restful sleep.

MUCUNA PRURIENS EXTRACT - 500MG

Mucuna Puriens Dopamine is a neurotransmitter that promotes enjoyment and interest in life.* With 15% L-Dopa (the immediate precursor of dopamine). Supports Relaxation and Recovery, Naturally Supports Mood and Benefits Nervous System.

L-TAURINE - 500MG

Taurine is an amino acid that increases glycine and GABA to calm the brain (AKA ease anxiety).15 Research shows that taurine – especially if combined or "stacked" with other ingredients – acts as a neural sedative to calm anxiety and lessen reactivity to stress. It can also help to resolve depression, which is often a factor that leads to insomnia and other sleep disorders.

ASHWAGANDHA ROOT EXTRACT - 250MG

Ashwagandha as a Sleep Aid Preliminary research has found that ashwagandha may help people fall asleep faster, spend more time asleep, and experience better sleep quality6. After taking Ashwagandha for six weeks, participants in one actigraphy-based study described their sleep as being 72% better6, on average. Ashwagandha can help normalize cortisol levels, thus reducing the stress response.

BACOPA MONNIERI EXTRACT - 100MG

Bacopa monnieri is a herb that is commonly used in Ayurveda. It has traditionally been used to improve overall wellbeing and there is research suggesting it may improve sleep, memory and reduce stress levels.

GINKGO BILOBA EXTRACT - 50MG

Gingko biloba Extract have been shown to reduce stress and enhance relaxation. This will help you to relax after a long day and it may even contribute to improved sleep quality. Gingko biloba has been repeatedly evaluated for its ability to reduce anxiety, stress.

ZINC GLUCONATE - 30MG

Zinc is an essential trace mineral naturally present in some foods and involved in numerous aspects of cellular metabolism. Zinc plays a significant role with respect to the stress response. Proper maintenance of zinc status can help to stabilize serum cortisol levels over time,1 and zinc intake has been shown to temporarily inhibit cortisol secretions.

MAGNESIUM GLYCINATE - 340MG

Glycine supplementation can improve the quality of sleep, making this form of magnesium a good choice for those with insomnia. Preliminary research shows that magnesium glycinate can elevate levels of magnesium in brain tissue. The glycinate form is gentle on the GI tract.

Vitamin B6 - 2MG

Vitamin B₆ are vital for brain function and development .Vitamin B6 for scan help to recall your dreams, and get you into the whole lucid dreaming thing .It also helps to produce serotonin and melatonin, which are both key for sound, peaceful sleep, and to regulate mood.Vitamin B6 can help the body manufacture neurotransmitters, such as dopamine and serotonin, which aids in the body's ability to cope with depression, stress and anxiety

POTASSIUM CITRATE - 300MG

Potassium helps to reduce symptoms of stress,anxiety and improves mood. Potassium supplements also boost sleeping through the night. Potassium deficiency has also been linked to mood changes and mental fatigue. Low blood potassium levels may disrupt the signals that help maintain optimal brain function. For example, a study found that 20% of patients with mental disorders had a potassium deficiency.

REFERENCES
Supplement Facts
Serving Size: 1 Scoop | Servings per Pack: 30
Amount Per Serving
% DV
SLEEP & STRESS SUPPORT
L Tryptophan (Free form)
1000mg
†
5-HTP (L-5 Hydroxytryptophan)
50mg
†
L-Theanine
200mg
†
Mucuna Extract (Standardized to 15% L-Dopa)
500mg
†
GABA (Gamma Aminobutyric acid)
300mg
†
L-Taurine (Free form)
500mg
†
Ashwagandha Root Extract
250mg
†
Bacopa Monnieri Extract
100mg
†
Ginkgo Biloba Extract
50mg
†
Zinc (as Zinc Gluconate)(Elemental)
30mg
100%
Magnesium (as Magnesium Glycinate)
340mg
100%
Potassium (as Potassium Citrate)
300mg
100%
Vitamin B₆ (as Pyridoxine HCl)
2mg
100%
Other Ingredients: Artificial flavour & Sucralose.
† Daily value not established.
DIRECTIONS:
AS A DIETARY SUPPLEMENT, TAKE 1 SCOOP IN EVENING OR AS DIRECTED BY YOUR HEALTHCARE PROFESSIONAL
WARNINGS:
DO NOT CONSUME IF UNDER 18 YEAR OF AGE.
KEEP OUT OF REACH OF CHILDREN.
| | |
| --- | --- |
| Color | N/A |
| Caffeine Option | No |
| Select Flavor: | No |
| Brand | NutriJa™ |
| Country of Origin | India |
| Ingredients | See Supplement Facts |
| Form | Capsule |
| COA | No |
| Product Code/UPC | 720444431672 |
| Price | ₹ 0 |