Creatine HCL 750 MG
NutriJa™ Creatine HCl Each Capsule Provides You 750 Mg Of Pure Creatine HCl.
Increase Strength, Endurance And Recovery.
Increases Muscle Cell Volume and Protein synthesis (muscle growth).
Helps muscles to generate and circulates ATP.

Sanitized
Product

Delivered within 5-7 days


30 Days
Money Back Guarantee
Offer Available:

GET EXTRA 10% OFF BUY 2 or More QTY - Apply Coupon Code: EXTRA10 GET A FREE TRIAL PACK OF YOUR CHOICE! ORDER ABOVE ₹2000 - Apply Coupon Code: FREETRIAL GET A FREE GYM T-SHIRT! ORDER ABOVE ₹2499 - Apply Coupon Code: T-Shirt FREE ZMA WORTH ₹450 ON PURCHASE OF ABOVE ₹2999: - Apply Coupon Code: FREEZMA GET 1 FREE SUPPLEMENT OF YOUR CHOICE!ON ORDER ABOVE ₹4999 : - Apply Coupon Code:FREESUPP BUY 5 SUPPLEMENTS & GET 1 FREE SUPPLEMENT OF YOUR CHOICE!: - Apply Coupon Code: ONEFREE EXTRA FLAT 10% OFF ON ORDER ABOVE ₹10,000: - Apply Coupon Code: FLAT10OFF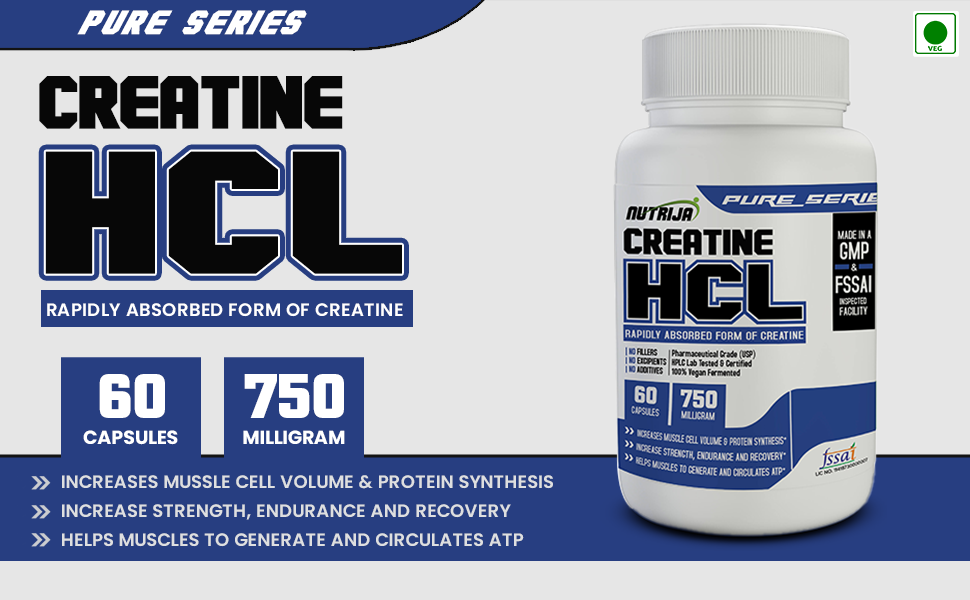 NUTRIJA™ CREATINE HCL(Hydrochloride) each capsule provides you 750 MG of pure Creatine HCl, which is a Rapidly absorbed form of Creatine , which needs a small amounts of fluid for absorption, it does not cause any gastrointestinal distress, water retention or bloating, and also supports immediate energy production during exercise and plays an important role in muscle protein synthesis.
NUTRIJA™ CREATINE HCL(Hydrochloride) delivers creatine hydrochloride, which has greater solubility and uptake than other forms of creatine, which Helps muscles make and circulates ATP, the energy fuel for quick, intense activity. NUTRIJA™ CREATINE HCL(Hydrochloride) also increases muscle cell volume and protein synthesis (muscle growth), which results in bigger and fuller muscles!
We source Creatine HCL in India from USA based reputed GMP certified facility and are tested in-house as well as by third-party labs to ensure purity and potency of Creatine HCL. See "Certificate Of Analysis" at the top right.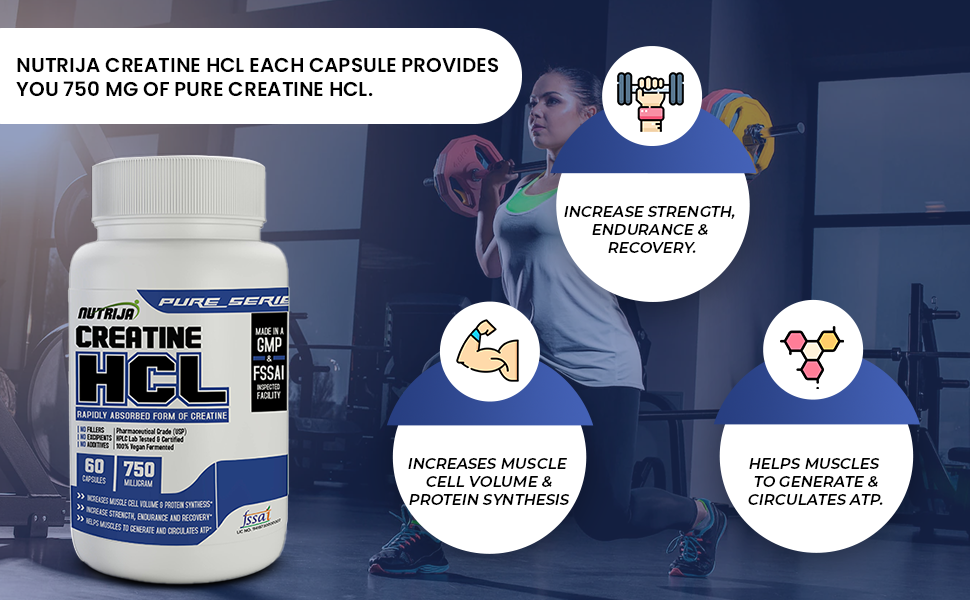 Goes well with / Synergy with:

Serving size: 1 Capsule
Servings per bottle: 60
Each bottle contains: 60 veggie capsules
DIRECTIONS:

As a dietary supplement take 1 to 2 servings daily before or after workout, or as directed by your healthcare professional.
Supplement Facts
Serving Size: 1 Capsule (750mg) | Servings per Container: 60
| | | |
| --- | --- | --- |
| | Amount Per Serving | % Daily Value |
| Creatine HCL (HydroChloride) | 750 mg | * |
* Daily value not established.
Other ingredients: None.
Other information: Free of wheat, soy, dairy, egg, fish, shellfish, nuts and tree nuts.
Quality Pledge: Made in an FSSAI inspected facility to meet the stringent standards of US Pharmacopeia (USP) for quality, purity, potency and disintegration.
Warnings: For adults only. If you are on medications, pregnant or nursing a baby, consult a health care practitioner prior to taking.
| | |
| --- | --- |
| Color | N/A |
| Caffeine Option | No |
| Select Flavor: | No |
| Brand | NutriJa™ |
| Country of Origin | United States |
| Ingredients | 100% Pure USP Grade Creatine HCL |
| Form | Capsules |
| COA | Certificate Of Analysis |
| Product Code/UPC | 803257320651 803257320668 |
| Price | ₹ 0 |