ECA PLUS
✔ THE WORLD'S STRONGEST ECA: NutriJa ECA Plus Advance Potent Fat Burner. Comprehensive formula loaded with 10 Powerful fat burning ingredients it has Ephedra Extract, Caffeine Anhydrous, Yohimbine HCL, White Willow Bark Extract, Theacrine, Theobromine Anhydrous, Rauwolscine, Chromium Nicotinate, Niacin & Bioperine to give your metabolism a kick in the rear
✔ ECA Plus (Advance Version): Our in house team of supplement experts found that adding up some new exciting & powerful ingredients to the already successful NutriJa ECA STACK formula dramatically increased the potency. NutriJa ECA Plus is a stronger version loaded with even more 10 Powerful Proven Weight Loss Ingredients. Designed for people who want a serious kick.
✔ HIGH DEFINITION FAT BURNER: NutriJa features a comprehensive science driven formula ECA Plus. Each serving provides effective doses of evidence-based ingredients like cayenne pepper extract, Rauwolscine (Alpha Yohimbine) high-potency, caffeine & more helps to increase energy levels.
✔ HIGHEST POTENCY: NutriJa ECA Plus Support your fat loss goals. All Natural, clean-burning thermogenic fat loss supplement we have ever released. It's so strong that you can never take more than one capsule. This is an ultraconcentrated super potent one pill only formula that is designed to rapidly destroy body fat deposits. Just one capsule will set the stage for extreme fat loss effects.
Warning: Extra Potent Fat burner , Don't take above recommended dosage.*

Sanitized
Product

Delivered within 5-7 days


30 Days
Money Back Guarantee
Offer Available:

GET EXTRA 10% OFF BUY 2 or More QTY - Apply Coupon Code: EXTRA10 GET A FREE TRIAL PACK OF YOUR CHOICE! ORDER ABOVE ₹2000 - Apply Coupon Code: FREETRIAL GET A FREE GYM T-SHIRT! ORDER ABOVE ₹2499 - Apply Coupon Code: T-Shirt FREE ZMA WORTH ₹450 ON PURCHASE OF ABOVE ₹2999: - Apply Coupon Code: FREEZMA GET 1 FREE SUPPLEMENT OF YOUR CHOICE!ON ORDER ABOVE ₹4999 : - Apply Coupon Code:FREESUPP BUY 5 SUPPLEMENTS & GET 1 FREE SUPPLEMENT OF YOUR CHOICE!: - Apply Coupon Code: ONEFREE EXTRA FLAT 10% OFF ON ORDER ABOVE ₹10,000: - Apply Coupon Code: FLAT10OFF
NUTRIJA® ECA Plus is a world's strongest ECA - Stack of Ephedra, Caffeine, Yohimbine & Rauwolscine (Alpha Yohimbine) loaded with new powerful fat loss ingredients Theacrine, Theobromine Anhydrous, Rauwolscine (Alpha Yohimbine), Chromium Nicotinate, Cayenne Pepper Extract, White Willow Bark Extract & Bioperine.

NUTRIJA® ECA Plus is highly stimulant and potent fat loss supplement for serious athletes of all levels to help maximize workout performance and will helps to Burns Fat More faster & push your body past previous limits..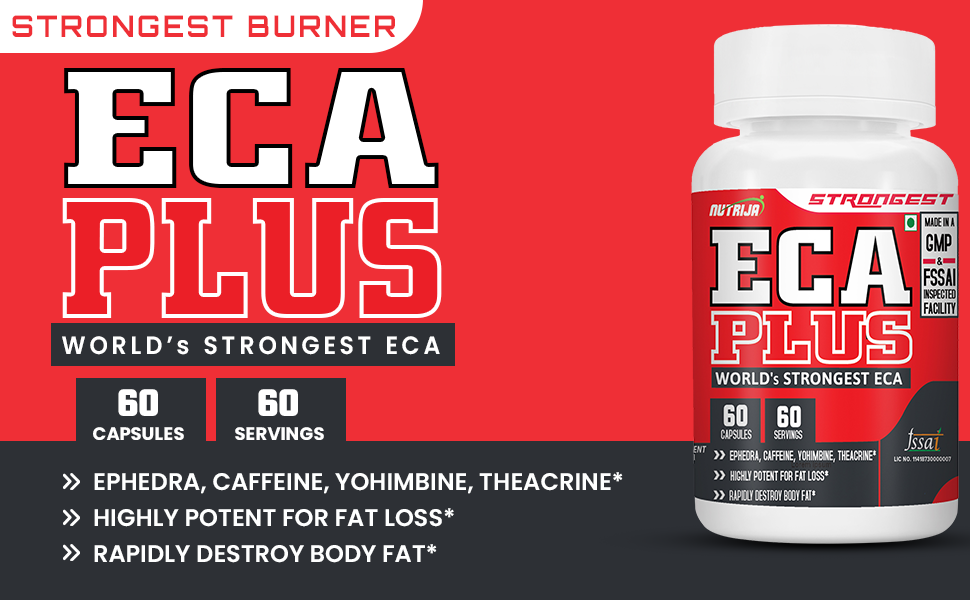 World's Strongest ECA:
Ephedra Extract helps you to boost your metabolic rates and Induces fat loss via increasing the amount of fat available for fuel as well as by increasing heat expenditure*
Caffeine (as Caffeine Anhydrous) helps to stimulate a surge of adrenaline, intensify mental focus and boost energy levels to ignite your workouts, it helps stimulate calorie burning.
Yohimbine HCL is one of the best fat loss supplement that are proven to accelerate fat burning, it can speed up your metabolism, improve your workout performance, and help you lose stubborn fat faster. Yohimbine's main property of interest for stubborn fat burning is that it's an alpha-2-receptor antagonist. Fat cells have different receptors that control it. Yohimbine is an alpha-2-receptor antagonist (a2-blocker), which causes your body to increase noradrenaline production. it activates the sympathetic 'fight-or-flight' nervous system and increases your energy expenditure, Yohimbine affects different receptors, which gives yohimbine a few unique properties.
White Willow Bark Extract Extract extends the activity of thermo genic ingredients, increasing the amount of fat burn.
Theacrine 100mg of Theacrin (as Teacrine) to provide boosts in energy, stamina, focus, mood, and motivation.
Theobromine Anhydrous Theobromine is a fat burner that also has thermogenic and anti-inflammatory properties. Theobromine supports cardiovascular and heart health while promoting a healthy mood.
Rauwolscine (Alpha Yohimbine) High Potency Alpha-Yohimbine each capsules provide 2 mg of natural rauwolscine (alpha-yohimbine) derived from the herb Rauyolfia vomitoria. Alpha-yohimbine can help increase the amount of calories you burn throughout the day, which ultimately makes it easier to stay in a calorie deficit.
Chromium NicotinateEssential for glucose absorption in cells, supports metabolism of fats supports weight loss naturally and promotes healthy cholesterol levels.
Cayenne Pepper ExtractCayenne Pepper Extract, a blend with an invigorating effect on multiple body system, also promote robust, free-flowing circulation. It may also help maintain blood cholesterol levels that are already in the normal range.
Niacin (as Nicotinic acid) Provides Thermogenic Effects. Niacin is an essential B-Vitamin (B-3) is required for the metabolism of carbohydrates and protein into energy.
Bioperine® to enhance absorption of the active ingredients in ECA Plus for even better results.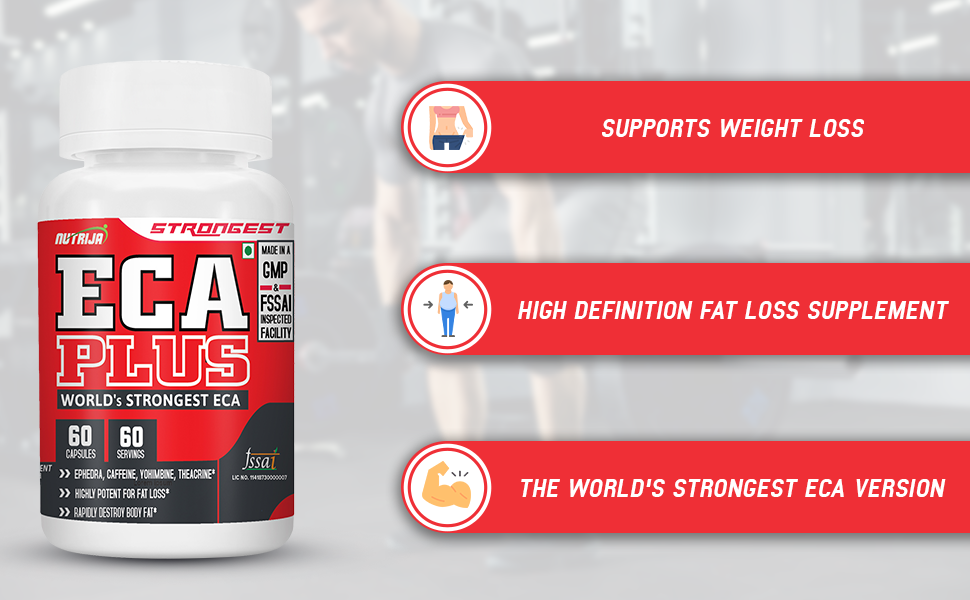 Supplement Facts
Serving Size: 1 Capsule | Servings per Pack: 60
| | | |
| --- | --- | --- |
| | Amount Per Serving | % DV |
| Ephedra Extract (as Ephedra Virdis) | 50mg | † |
| Caffeine (as Caffeine Anhydrous) | 300mg | † |
| Yohimbine HCL | 7.5mg | † |
| White Willow Bark Extract (Salicylic Acid) | 100mg | † |
| Theacrine (as Teacrine) | 100mg | † |
| Theobromine Anhydrous | 300mg | † |
| Rauwolscine (Alpha Yohimbine) | 2mg | † |
| Chromium (as chromium nicotinate) | 55mcg | 100% |
| Cayenne Pepper Extract | 100mg | † |
| Bioperine | 10mg | † |
| Niacin (as nicotinic acid) | 16mg | &100% |
| Other Ingredients: Vegetable Capsule | | |
* Daily value not established.
DIRECTIONS:
As a dietary supplement , Take 1 Capsules in a day before your workout ideally on empty stomach.
Caution:
DO NOT TAKE ABOVE RECOMMENDED DOSAGE, PROTECT FROM HEAT & MOISTURE. KEEP OUT OF REACH OF CHILDREN.
.
| | |
| --- | --- |
| Color | Black |
| Caffeine Option | No |
| Select Flavor: | No |
| Brand | NutriJa™ |
| Country of Origin | India |
| Ingredients | See Supplement Facts |
| Form | Capsule |
| COA | No |
| Product Code/UPC | 720444430002 |
| Price | ₹ 0 |