Fadogia Agrestis 600mg & Tongkat Ali 400mg
Fadogia Agrestis 600mg & Tongkat Ali 400mg
✔ FADOGIA AGRESTIS + TONGKAT ALI - Extra Strength 600mg Fadogia Agrestis Extract + 400mg of Tongkat Ali Extract 100:1 with Boron for maximum total and free testosterone.
✔ Boron citrate: Boron citrate increases the free testosterone levels in your body by up to 28% and decreased estrogen levels by 39%.
✔ Boost Testosterone: Fadogia Agrestis is combined with Tongkat Ali & Boron it helps Boost testosterone, increase energy levels, promotes athletic performance & endurance, supports immunity.
✔ Naturally Boost Energy: Powerful Combination between fadogia agrestis with tongkat ali & Boron of our dietary supplement can help increase energy levels naturally, reduce fatigue & tiredness.
✔ Natural Herb Supplement: NutriJa Fadogia Agrestis 600mg (Standardized to 10:1 from stem) & Tongkat Ali 400mg Extracted from the Eurycoma Longifolia root (Long Jack 100:1) 2 % Eurycomanone with Boron as boron citrate.

Sanitized
Product

Delivered within 5-7 days


30 Days
Money Back Guarantee
Offer Available:

GET EXTRA 10% OFF BUY 2 or More QTY - Apply Coupon Code: EXTRA10 GET A FREE TRIAL PACK OF YOUR CHOICE! ORDER ABOVE ₹2000 - Apply Coupon Code: FREETRIAL GET A FREE GYM T-SHIRT! ORDER ABOVE ₹2499 - Apply Coupon Code: T-Shirt FREE ZMA WORTH ₹450 ON PURCHASE OF ABOVE ₹2999: - Apply Coupon Code: FREEZMA GET 1 FREE SUPPLEMENT OF YOUR CHOICE!ON ORDER ABOVE ₹4999 : - Apply Coupon Code:FREESUPP BUY 5 SUPPLEMENTS & GET 1 FREE SUPPLEMENT OF YOUR CHOICE!: - Apply Coupon Code: ONEFREE EXTRA FLAT 10% OFF ON ORDER ABOVE ₹10,000: - Apply Coupon Code: FLAT10OFF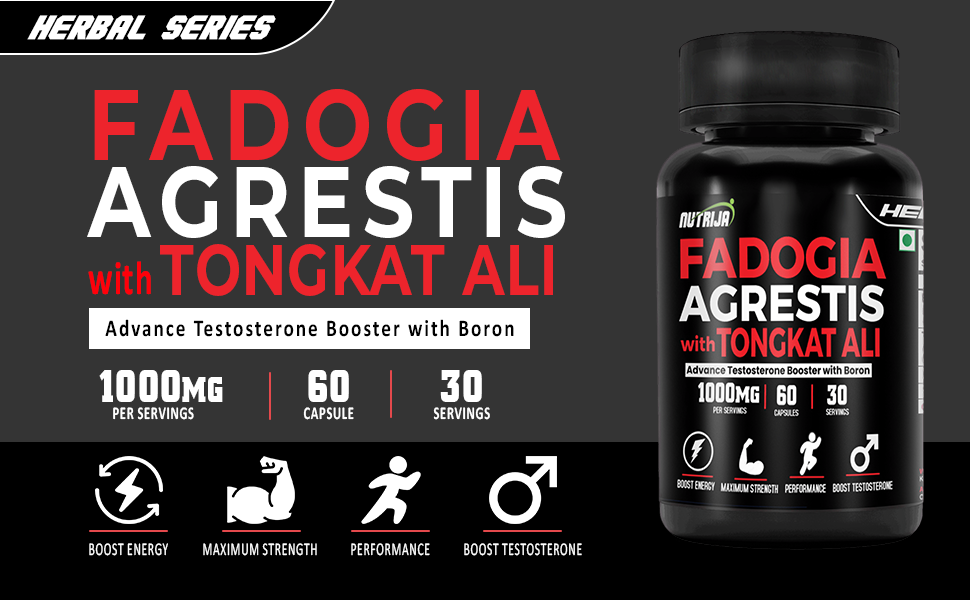 NUTRIJA® 3-in-1 high concentrated Fadogia Agrestist 600mg extract, complexed with an Indonesian Tongkat ali extract 400mg enhanced with Boron. The most powerful and effective testosterone booster formula created. An advance blend of natural plant extracts & boron to boost testosterone levels. 100% drug-free. Offering one of the highest optimal dosages of these herbal extracts to optimize total & free testosterone.
These powerful herbal extracts have been shown to improve stress hormone profiles and certain mood state parameters, making it effective in shielding the body from chronic stress. Whether you're dealing with general day-to-day stress, the stress of dieting, sleep deprivation, or exercise training, Tongkat and Fadogia can help.
NUTRIJA® Fadogia Agrestis + Tongkat Ali supplement with Boron is a completely vegan formula Ingredients sourced from Nigeria & Indonesia. Fadogia Agrestis works great when combined with Tongkat Ali (longjack) & Boron.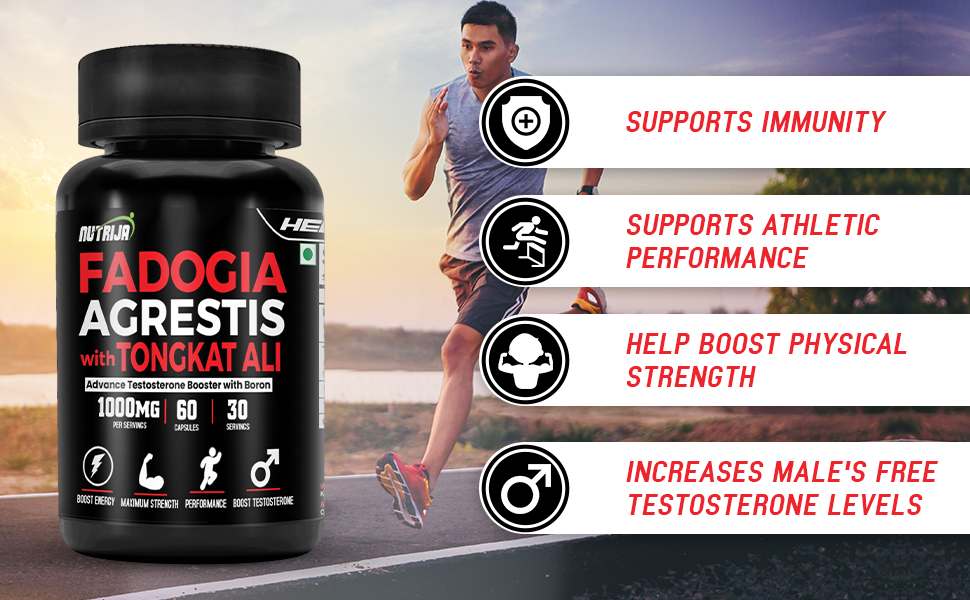 Also Known As: Fadogia
Fadogia Agrestis with Tongkat Ali
Testosterone Booster
Goes well with / Synergy with:

Supplement Facts
Serving Size: 2 Capsules | Servings per Pack: 30
Amount Per Serving
% Daily Value
Fadogia Agrestis Extract (Standardized to 10:1 from stem)
600mg
*
Tongkat Ali Root (Standardized to 100:1) Root Extract
Eurycoma Longifolia root Extract 2% Eurycomanone
400mg
*
Boron (as boron citrate)
6mg
*
* Daily value not established.
INGREDIENTS:
100% Pure Fadogia Agrestis Extract (Standardized to 10:1) with Tongkat Ali Standardized to 100:1 Root Extract 2% Eurycomanone & Boron
DIRECTIONS:
As a dietary supplement take 2 capsules 1-2 times daily or as directed by your healthcare professional. Avoid larger doses
WARNINGS
DO NOT CONSUME IF UNDER 18 YEAR OF AGE. KEEP OUT OF REACH OF CHILDREN.
| | |
| --- | --- |
| Color | No |
| Caffeine Option | No |
| Select Flavor: | No |
| Brand | NutriJa™ |
| Country of Origin | United States |
| Ingredients | 100% Pure Fadogia Agrestis Extract (Standardized to 10:1) with Tongkat Ali Standardized to 100:1 Root Extract 2% Eurycomanone & Boron |
| Form | Capsule |
| COA | No |
| Product Code/UPC | 720444429747 |
| Price | ₹ 0 |