L-Citrulline Capsules
800mg of Pure L-Citrulline (USP grade) per Capsule.
Potent No Booster & Arginine Precursor
Increases Nitric Oxide & Blood Flow
Delays Onset Fatigue During Intense Training

Sanitized
Product

Delivered within 5-7 days


30 Days
Money Back Guarantee
Offer Available:

GET EXTRA 10% OFF BUY 2 or More QTY - Apply Coupon Code: EXTRA10 GET A FREE TRIAL PACK OF YOUR CHOICE! ORDER ABOVE ₹2000 - Apply Coupon Code: FREETRIAL GET A FREE GYM T-SHIRT! ORDER ABOVE ₹2499 - Apply Coupon Code: T-Shirt FREE ZMA WORTH ₹450 ON PURCHASE OF ABOVE ₹2999: - Apply Coupon Code: FREEZMA GET 1 FREE SUPPLEMENT OF YOUR CHOICE!ON ORDER ABOVE ₹4999 : - Apply Coupon Code:FREESUPP BUY 5 SUPPLEMENTS & GET 1 FREE SUPPLEMENT OF YOUR CHOICE!: - Apply Coupon Code: ONEFREE EXTRA FLAT 10% OFF ON ORDER ABOVE ₹10,000: - Apply Coupon Code: FLAT10OFF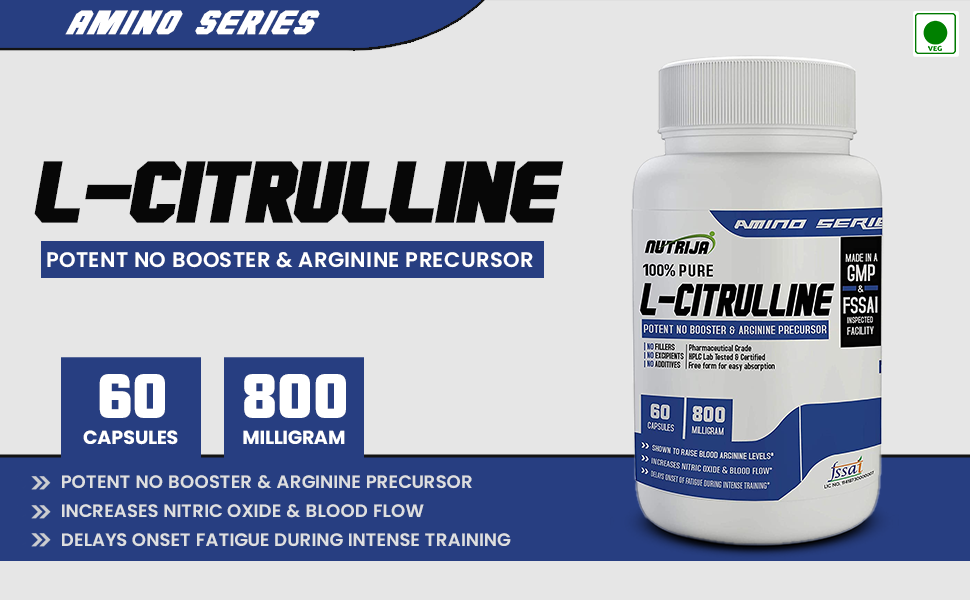 NUTRIJA™ L-Citrulline each capsule provides 800mg of pure L-Citrulline derived from 100% Vegan Fermentation Process. L-Citrulline is an amino acid that plays an important role in nitric oxide metabolism and regulation.L-Citrulline is converted to L-Arginine to support L-Arginine and nitric oxide levels. Increased production of nitric oxide promotes vascular dilation which improves oxygen and blood circulation throughout the body.
Supplementing L-Citrulline is the most effective way to boost nitric oxide levels over a longer period of time. This means L-Citrulline supplementation will be recycled to L-Arginine and then to Nitric Oxide in body. So why not simply Supplement L-Arginine instead? The reason is simple: Citrulline is proven to be more effective at increasing plasma arginine levels than supplemental arginine.
NUTRIJA™ L-Citrulline is manufactured in USA based GMP certified facility in it's purest form and derived from vegetarian source. and well tested in lab for purity and potency. A quick glance at the Certificate of Analysis (COA) on this product page (to the side of the product image) details the high levels of purity.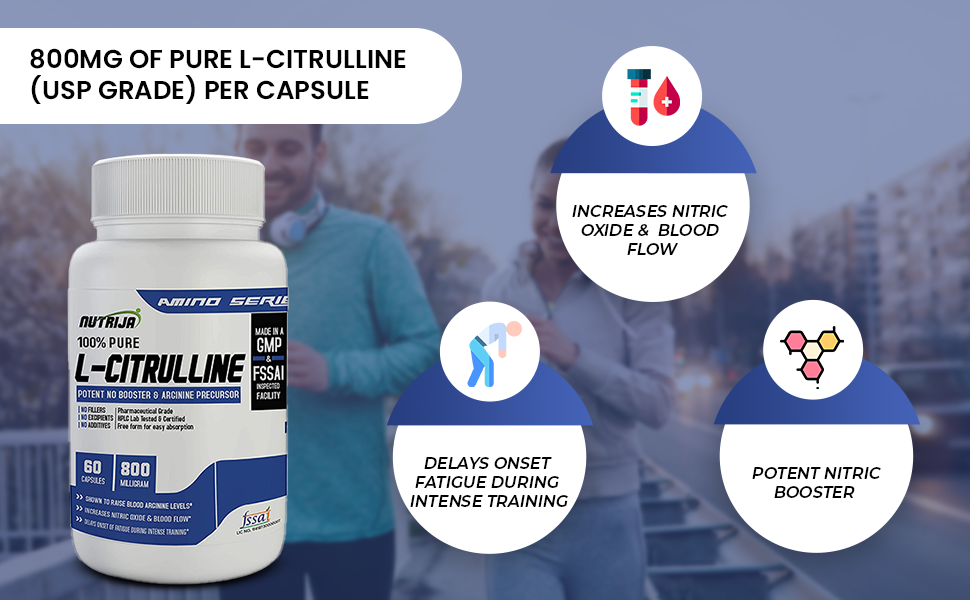 Goes well with / Synergy with:

Supplement Facts
Serving Size: 1 Capsule (800mg) | Servings per Container: 60
| | | |
| --- | --- | --- |
| | Amount Per Serving | % Daily Value |
| L-Citrulline (free form) | 800 mg | * |
* Daily value not established.
DIRECTIONS:

As a dietary supplement, take 1 to 2 servings twice daily on an empty stomach or as directed by nutritionally informed physician. Take 30-40 minutes prior to training for maximum results.
| | |
| --- | --- |
| Color | No |
| Caffeine Option | No |
| Select Flavor: | No |
| Brand | NutriJa™ |
| Country of Origin | United States |
| Ingredients | 100% L-Citrulline (free form) |
| Form | Vegetable Capsule |
| COA | Certificate Of Analysis |
| Product Code/UPC | 720444439210 720444439203 |
| Price | ₹ 0 |