ZMA
Each Serving Provides you 30mg Zinc, 450mg Magnesium , 10.5mg Vitamin B-6, and 5mg Boron with added Bioperine for better absorption
Increases Testo sterone Levels*
Supports Muscle Growth and Strength*
Improves Quality of Sleep*

Sanitized
Product

Delivered within 5-7 days


30 Days
Money Back Guarantee
Offer Available:

GET EXTRA 10% OFF BUY 2 or More QTY - Apply Coupon Code: EXTRA10 GET A FREE TRIAL PACK OF YOUR CHOICE! ORDER ABOVE ₹2000 - Apply Coupon Code: FREETRIAL GET A FREE GYM T-SHIRT! ORDER ABOVE ₹2499 - Apply Coupon Code: T-Shirt FREE ZMA WORTH ₹450 ON PURCHASE OF ABOVE ₹2999: - Apply Coupon Code: FREEZMA GET 1 FREE SUPPLEMENT OF YOUR CHOICE!ON ORDER ABOVE ₹4999 : - Apply Coupon Code:FREESUPP BUY 5 SUPPLEMENTS & GET 1 FREE SUPPLEMENT OF YOUR CHOICE!: - Apply Coupon Code: ONEFREE EXTRA FLAT 10% OFF ON ORDER ABOVE ₹10,000: - Apply Coupon Code: FLAT10OFF
NUTRIJA ZMA is a unique supplement with three powerful Essential Minerals for Energy Metabolism & Recovery Support. Vitamin B-6, which acts as a cofactor to an enzyme required for aspartate metabolism. Zinc is involved with energy metabolism. Magnesium is an essential component of the muscle enzyme which is a vital factor in energy production.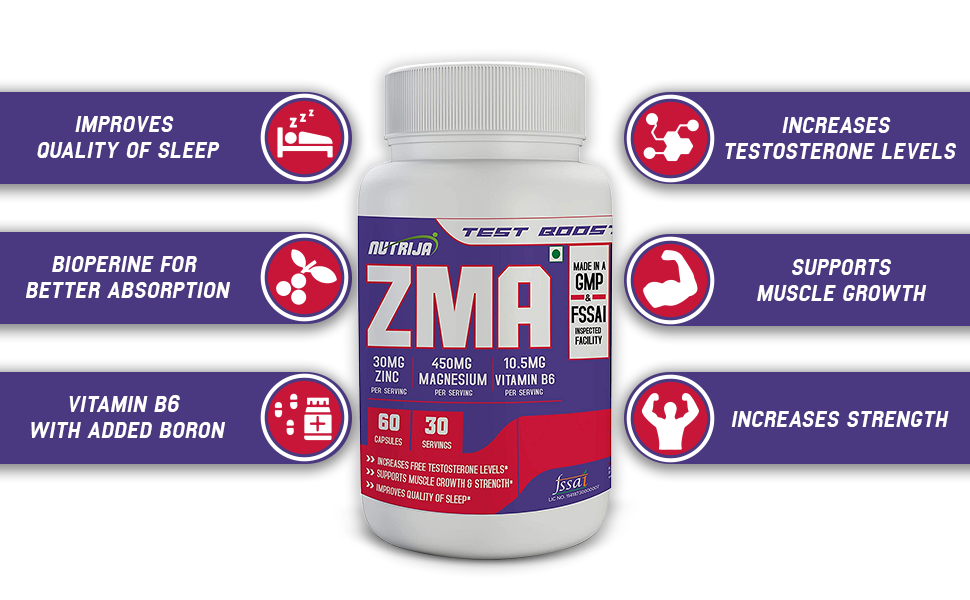 Advanced ZMA With Added Boron:
ZINC ( as mono-L-methionine & Aspartate) is an aphrodisiac and Testosterone Booster. Zinc is also very important for the functioning of the enzyme, hormone, and immune systems. Zinc also act as an aromatase inhibitor and reduce estrogen levels. It is also a potent antioxidant and can provide benefits for prostate issues. Zinc also plays a role in the repair of intestinal mucosa, when supplemented in high doses.*
Magnesium (as Magnesium, Aspartate) is an essential dietary mineral, and the second most prevalent electrolyte in the human body. Magnesium boosts exercise performance as it is an essential component of the muscle enzyme which is a vital factor in energy production. When It Comes To Athletic Performance, Magnesium Supports Nerve Impulse Conduction, Muscle Contraction, and Normal Heart Rhythm
Vitamin B-6 ( as Pyrodoxine HCl) is responsible for producing a necessary coenzyme in the body. Vitamin B6, also known as pyridoxine, is a water-soluble vitamin that your body needs for several functions. It's significant to protein, fat and carbohydrate metabolism and the creation of red blood cells.It also Improves Mood , quality of sleep and Reduce Symptoms of Depression.
Boron (as Boron Citrate), Boron appears to be very adept at limiting the amount of (SHBG) in your blood. SHBG binds to testosterone and carries it throughout your bloodstream supplementing 5mg of Boron every day increased free testosterone levels that can free up your testosterone levels which leads to muscle growth and strength.
BioPerine® to enhance absorption of the active ingredients in ZMA for even better results.*

Supplement Facts
Serving Size: 2 Capsules | Servings per Pack: 60
| | | |
| --- | --- | --- |
| | Amount Per Serving | % DV |
| Vittamin B-6 (as Pyridoxine Hcl) | 10.5mg | † |
| Magnesium (as Magnesium Aspartate) | 450mg | † |
| Zinc (elemental)(as Mono-L-methionine & Aspartate) | 30mg | † |
| Boron (elemental)(as Boron Citrate) | 5mg | † |
| Bioperine® | 5mg | † |
| Other Ingredients: Vegetable Capsule | | |
* Daily value not established.
DIRECTIONS:
As a dietary supplement , Take 2 Capsules in a day before your bedtime.
Caution:
DO NOT TAKE ABOVE RECOMMENDED DOSAGE, PROTECT FROM HEAT & MOISTURE. KEEP OUT OF REACH OF CHILDREN.
.
| | |
| --- | --- |
| Color | N/A |
| Caffeine Option | No |
| Select Flavor: | No |
| Brand | NutriJa™ |
| Country of Origin | India |
| Ingredients | See Supplement Facts |
| Form | Capsule |
| COA | Certificate Of Analysis |
| Product Code/UPC | 720444438794 720444438787 |