SUPER IMMUNE™ DRINK
Dual Defence Immunity Support with Vitamin, Mineral & Herbals that help fight against Cold & Flu
One Powerful formula provides you, High Levels of Immune-fortifying Vitamin C, D3, Zinc, B6, B12,K2 MK-7, Selenium, N-Acetyl Cysteine (NAC)
Enhanced with Immune Boosting Herbal Extract & Fruit Extract -: Curcumin,Pomegranate,Apple Concentrate,Beet Root Extract
To Strengthen Immunity at Cellular Level, Defense-boosting Zinc is infused with Zinc Ionophores - Quercetin & Curcumin Extract

Sanitized
Product

Delivered within 5-7 days


30 Days
Money Back Guarantee
Offer Available:

GET EXTRA 10% OFF BUY 2 or More QTY - Apply Coupon Code: EXTRA10 GET A FREE TRIAL PACK OF YOUR CHOICE! ORDER ABOVE ₹2000 - Apply Coupon Code: FREETRIAL GET A FREE GYM T-SHIRT! ORDER ABOVE ₹2499 - Apply Coupon Code: T-Shirt FREE ZMA WORTH ₹450 ON PURCHASE OF ABOVE ₹2999: - Apply Coupon Code: FREEZMA GET 1 FREE SUPPLEMENT OF YOUR CHOICE!ON ORDER ABOVE ₹4999 : - Apply Coupon Code:FREESUPP BUY 5 SUPPLEMENTS & GET 1 FREE SUPPLEMENT OF YOUR CHOICE!: - Apply Coupon Code: ONEFREE EXTRA FLAT 10% OFF ON ORDER ABOVE ₹10,000: - Apply Coupon Code: FLAT10OFF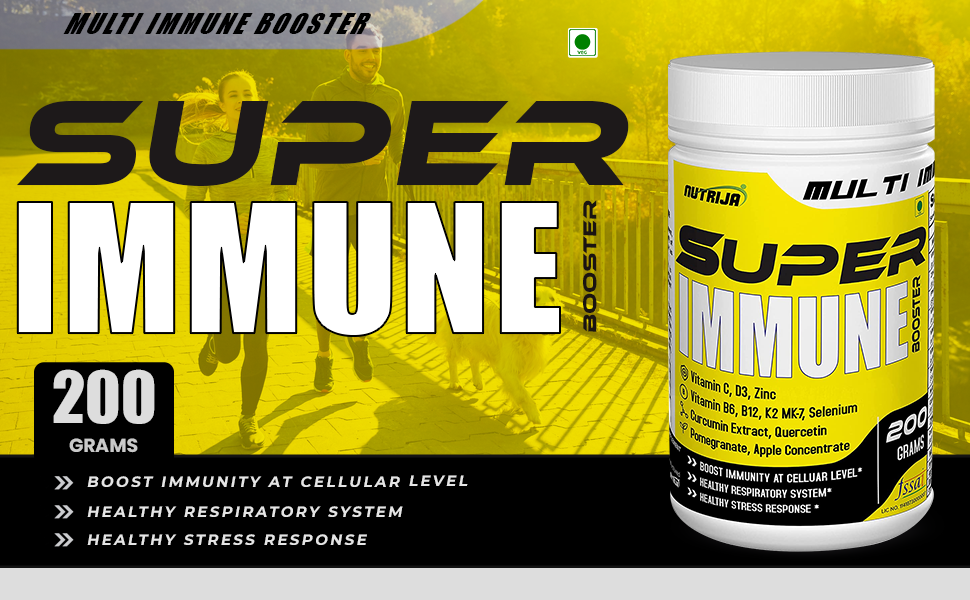 What SUPER IMMUNE™ Is?
NUTRIJA™ SUPER IMMUNE is complete 40-day Vitamin, Mineral & Herbal Immunity Boosting Kit to safeguard yourself Against Cold & Flu.

SUPER IMMUNE is Scientifically researched & designed to supply all the immune system boosting ingredients in One Powerful formula combining high levels of immune-fortifying Vitamin C, D3, Zinc, B6, B12,K2 MK-7, Selenium, N-Acetyl-L-Cysteine, Curcurmin, Pomegranate,Apple Concentrate Beet Root Extract.

To Strengthen Immunity at Cellular Level, Defense-boosting Zinc is fortified with Zinc Ionophores - Quercetin & Curcumin Extract

-- NutriJa
DIRECTIONS:
As a dietary supplement, take 2 capsules daily, preferably with meals, or as directed by your physician.
WARNINGS:
DO NOT CONSUME IF UNDER 18 YEAR OF AGE.
AVOID USING OTHER CAFFEINATED PRODUCTS.
KEEP OUT OF REACH OF CHILDREN.
| | |
| --- | --- |
| Color | N/A |
| Caffeine Option | No |
| Select Flavor: | No |
| Brand | NutriJa™ |
| Country of Origin | India |
| Ingredients | 12 Science-based Immunity boosting ingredients, see supplement facts. |
| Form | Powder |
| COA | No |
| Product Code/UPC | 720444431870720444431832 |
| Price | ₹ 0 |
Ganesh


3/20/2022

Have been consuming it for three months now. Feels good. No cold or any flu issues.

sudeendra


6/4/2021

Using this product from past 15 days ,Awesome changes me seeing in health .You guys rock :)
Ganesh


3/20/2022

Have been consuming it for three months now. Feels good. No cold or any flu issues.

sudeendra


6/4/2021

Using this product from past 15 days ,Awesome changes me seeing in health .You guys rock :)